D'Lynn Waldron's age-progreessed and age-regressed portrait paintings, and her portraits of what a couple's baby might look like, are featured in movies, magazines and television around the world.
"D'Lynn Waldron captures the personality and has the soul in the eyes in her paintings and photographs."
Dr. D'Lynn Waldron ©2017




CLICK TO SEE AN ANIMATION OF A MAN AGING FROM TWENTY TO NINETY
Princess Diana's portrait in People Magazine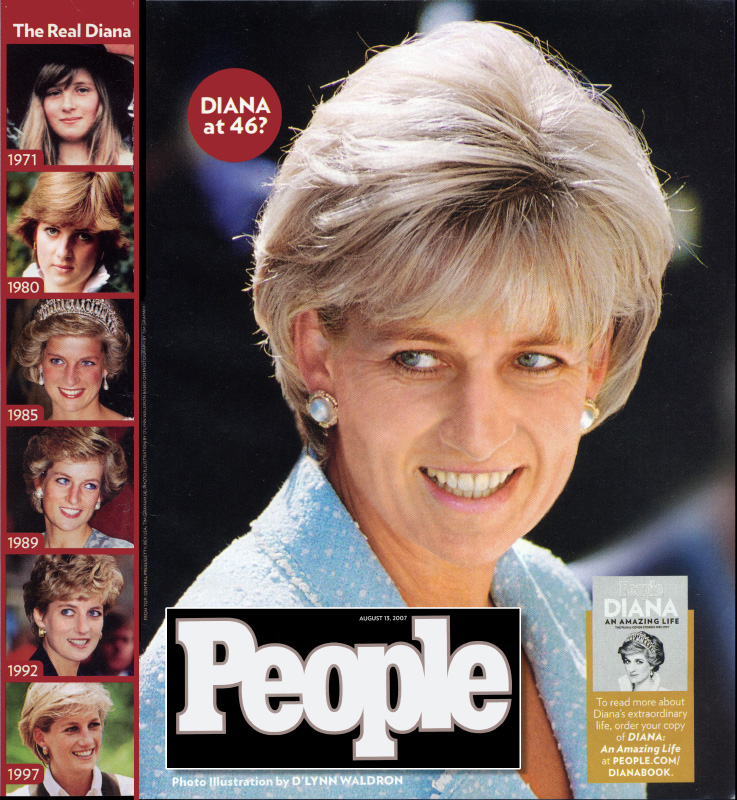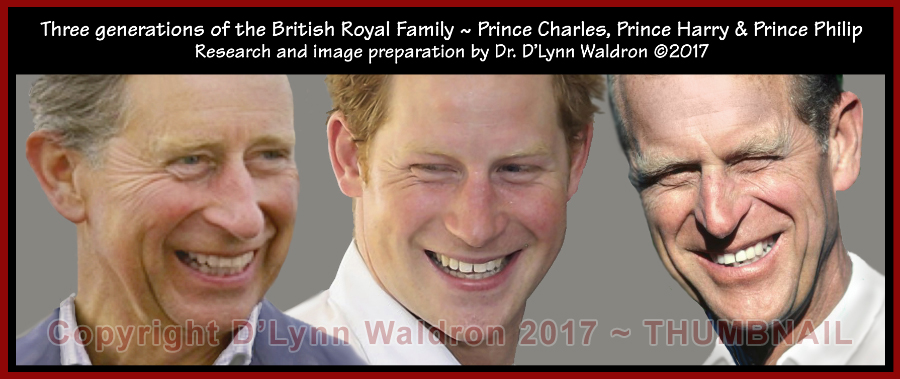 .AGE PROGRESSED CELEBRITY PORTRAITS CLICK TO SEE THE PUBLICATION IN FULL RESOLUTION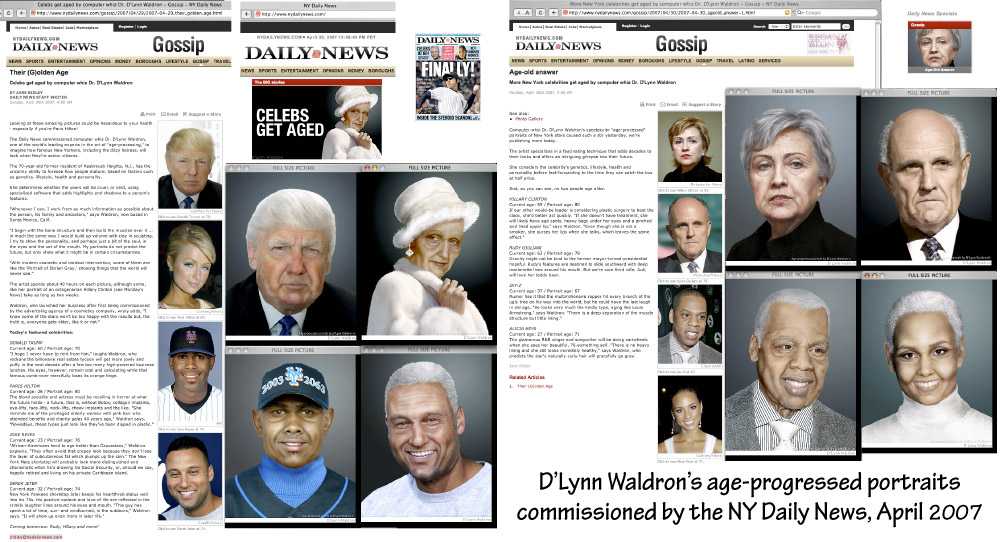 Dr. Sanjay Gupta age-progressed for a CNN Special 'Chasing Life' on aging. http://www.cnn.com/SPECIALS/2007/chasing.life/


CLICK TO SEE TV RESOLUTION ANIMATION OF DR. GUPTA AGING- ARTWORK, ANIMATION AND MUSIC BY D'LYNN WALDRON

CLICK TO SEE A WOMAN AGING IN ANIMATION
Original artwork illustrating aging with and without proper skin care. Commisioned by a cosmetics company for print and animated TV advertising worldwide.

James 'Whitey' Bulger ~ America's Most Wanted.
Age-progressed to 76-years-old by Dr. D'Lynn Waldron as part of her work on the fugitive search for which she was hired as a consultant by the FBI
D'Lynn Waldron restructured the search and had additional information collected about his woman companion which when used as Dr. Waldron advised led to Bulger's capture within two days.
WhiteyBulgerCaptured.html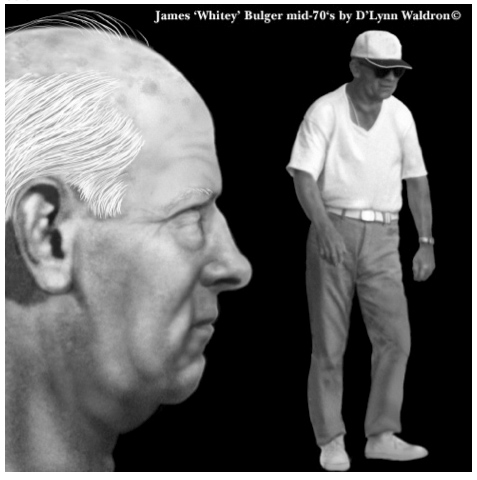 "WOW!!! I AM VERY EXCITED!!!! THANK YOU, LYNN -- CAN'T WAIT!!! XOX JD" (Jonathan Demme)
(After receiving the first of a set of digitally painted portraits for Jonathan Demme's movie.)
CEDELLA MARLEY BOOKER AT 19. No photos exist of Cedella, the mother of Bob Marley, in her teens when he was born.
D'Lynn Waldron's age-regressed digitally hand-painted portrait was in the 2013 BAFTA nominated film Marley.


This image is D'Lynn Waldron's totally original, age-regressed portrait of Bob Marley's mother at the age she was when he was born.
This required my research and forensic analysis of the existing photos of Cedella much later in life and D'Lynn's skills as a conventionally trained portrait artist.
D'Lynn researched and painted five different hair and headscarf styles from that era in Jamaica, so there would be a choice for the movie.
--------------------------------------

An imaginary portrait of the baby of Steffi Graff and Andre Agassi was commissioned by German Sat 1 TV in 2000, and looked almost exactly like the actual baby born years later.
.....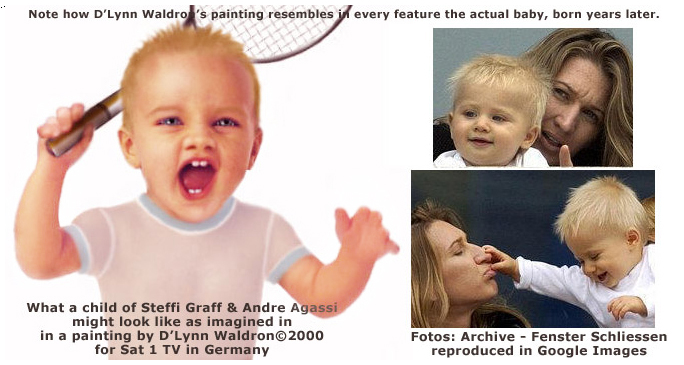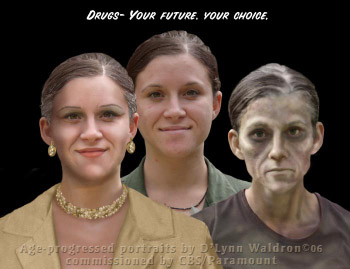 Age-progressed portraits showing a teenager's future with and without meth addiction. Commissioned by CBS/Paramount.
Note: The accurately done skin lesions were considered too disturbing by the producer and were painted out of her portrait by Dr. Waldron.

Frequently asked questions about the work I do
1)
Automated computer programs cannot age-progress a photo into a scientifically accurate or artistically realistic portrait.
My portraits are digitally hand painted in Photoshop with a Wacom tablet, based on an individal forensic analysis of all the available information.
2)
My forensic source materials include genetics, lifestyle, medical history, personality, environment, and how gravity will effect that person's face.
3)
My animations for movies and television are usually created by cross-dissolving between separate age-progressed, digitally painted portraits.
4)
I am a conventionally trained portrait artist. My first book with my illustrations was published in 1958 by Harper Brothers. books
I have been doing research, development and technical writing on hardware and software for the media since the first Mac in 1984.
http://dlwaldron.com/ComputerArtCont.html
5)
I am also a photographer and my photos and photo-digital artwork is frequently used in advertising.
I use Canon DSLR cameras and a suite of Canon lenses. I love my 85mm f1.8 prime portrait lens.
6)
My Most Wanted Whitey Bulger work for the FBI, along with an age progressed portrait, included a complete analysis of everything they had on his and his girlfriend's history, health and life style. I sent them out to get additional information including the data on his woman companion which led to her being recognized and his capture.
I was doing Bulger as my prototype design of graphically based website for locating fugitives which presented the information visually in categories that got every more specific, in a 'treasure hunt' for the reward.
http://dlwaldron.com/WhiteyBulgerCaptured.html
7)
I appreciate people's interest in my work, but I do not have time to take private commissions.
Note:
The work I enjoy most is photographing symphony maestros, their orchestras, and soloists.
CONTACT