HIGHEST RECOMMENDATION- AN ABSOLUTE MUST READ!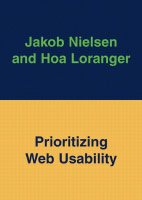 Prioritizing Web Usability
Authors: Jakob Nielsen & Hoa Loranger
432 pages Color illustrations
$50 ISBN-13: 978-0-321-35031-2 New Riders 2006
http://www.peachpit.com/bookstore/product.asp?isbn=0321350316&rl=1

Prioritizing Web Usability is the most important and the most valuable book ever published on web design. Following the advice in this book is worth millions of dollars to most corporations and many thousands of dollars to even small on-line businesses.

Everyone who uses the web knows how badly designed most web sites are and how much business and good will are lost because customers are irritated by the design and/or cannot find what they are looking for.

This book explains how effective Web design can improve your on-line business. It tells the mistakes to avoid, and how to make your site more satisfying for your visitor and profitable for you. A few hours spent with this book will teach you more than hundreds of hours in most university courses.

Author Jakob Neilsen, a world authority on optimizing web site usability, has spent many years studying what works and what doesn't work in web site design. He presents his findings clearly and concisely, illustrated by excellent screen captures of major web sites showing what they have done right and wrong.

Follow the advice in this book and you will have a web site that has a clean, simple design with easy navigation to well structured information, and if you are selling, that is optimized to close the sale followed by a properly functioning check out.
----------------------------------------------------------------------------------------------------------

ESSENTIAL READING FOR WEB PROFESSIONALS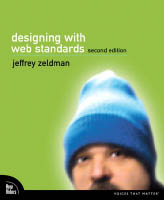 Designing with Web Standards, 2nd Edition
Author: Jeffrey Zeldman
432 pages Color illustrations
$44.99 ISBN 13: 978-0-321-38555-0 New Riders 2006
http://www.peachpit.com/bookstore/product.asp?isbn=0321385551&rl=1

Designing with Web Standards is a book that could be worth its weight in gold if you are a major business presence on the web.

The more years of experience a person has creating Web sites, the more out of date he may be. This book begins by explaining just how much things have changed in the past decade and what being out of date can mean in higher costs and lost business.

The big change is the advent of Web Standards of which the author was a leading figure. The goal of Web Standards is to provide the coding tools to make every compliant site work on every compliant browser.

Web Standards does more than just provide compatibility, it creates elegant code that is lean and efficient. If you are a business with tens of thousands of visitors, the less code, the less time it takes to transmit a page, and that saves bandwidth which saves money.

Using Web Standards also means you keep the most possible visitors and present them with the most uniform experience no matter what their browser.
----------------------------------------------------------------------------------------------------------

A MUST READ WHEN DESIGNING WEB SITES FOR CORPORATIONS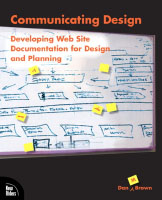 COMMUNICATING DESIGN: Developing Web Site Documentation for Design and Planning
Author: Dan Brown
320 pages - mostly text, some grayscale illustrations of charts
$39.99 ISBN 13: 978-0-321-47396-7 New Riders 2006
http://www.peachpit.com/bookstore/product.asp?isbn=0321392353&rl=1

Communicating Design is for everyone who has to deal with large corporations on Web projects. The most important problem is getting the information you are developing to all the necessary people, especially those in a decision-making position, and in a form they can understand and then getting a sign-off that protects you from endless redos.

This highly detailed book takes you step by step with usable examples through organizing, documenting and presenting your work to your client, using such things as site maps, wireframes, content inventories and flow charts. A big client can pay big bucks, but if you don't have your work properly documented and presented to your client, misunderstandings and mind changes can eat up all your profits and then some.

This is the only book I know that has deals with this important subject in a detailed and comprehensive way, but be aware this book is challenging to read and not easy understand. It needs to be assigned to a person on your team who likes this sort of thing

This book would be an excellent text for business schools because it teaches both Web site creation management along with skills that can be applied to working effectively with corporations on a wide variety of projects.

----------------------------------------------------------------------------------------------------------
SOPHISTICATED WEB SITE DESIGN TOOLS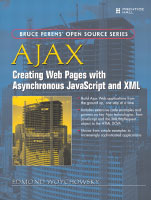 AJAX: Creating Web Pages with Asynchronous JavaScript and XML
Author: Edmond Woychowsky
432 pages - mostly text, some grayscale illustrations
$44.99 45 day free access to on-line edition.
ISBN-10: 0-13-227267-9; ISBN-13: 978-0-13-227267-4
Published by Prentice Hall. Bruce Perens' Open Source Series 2006
www.prenhallprofessional.com/perens

Professional Web developers with large commercial sites can gain large economic benefits and improved user experience by employing the new AJAX to build Web pages that can be as sophisticated as desktop applications, while using open-source software and staying within existing standards for compatibility with browsers.

AJAX stands for Asychronous JavaScript & XTML. This book by guru Edmond Woychowsky will teach you how to write AJAX code and applications. The author starts with a basic foundation of HTML and JavaScript and builds on it by adding additional AJAX functions. This book is well organized and clearly written by an author who lightens the text with touches of humor.

----------------------------------------------------------------------------------------------------------

----------------------------------------------------------------------------------------------------------
USEFUL DESKTOP REFERENCE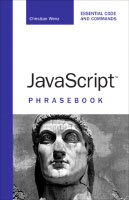 JavaScript Phrasebook
Author: Christian Wenz
240 pages, small format - text and grayscale screen captures
$14.99 ISBN-10: 0-672-32880-1; ISBN-13: 978-0-672-32880-0
Published by Sams. Series: Developer's Library 2006
http://www.samspublishing.com/bookstore/product.asp?isbn=0672328801&rl=1

This is one of a very valuable reference series by SAMS publishing and it is worth looking over their list:
http://www.samspublishing.com/series/series.asp?st=44614&rl=1

The JavaScript code and commands phrases are organized under categories of use and tasks.

----------------------------------------------------------------------------------------------------------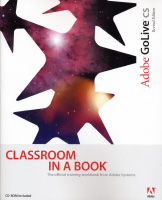 Adobe GoLive CS Classroom in a Book
531 pages, color illustrations, CD.
$45 ISBN 0321278496 Adobe Press from Preachpit 2004
www.adobepress.com

I could not do a web site without GoLive which I have used since long before it was acquired and improved by Adobe.

This is the official Adobe Classroom in a Book for GoLive and it is an augmentation to the manual that comes with the program, not a replacement for the manual. This book contains chapters on the various functions within GoLive. The chapters are self-contained and end with Review Questions and Answers, so you can study just the chapters that cover the functions you need for your work
----------------------------------------------------------------------------------------------------------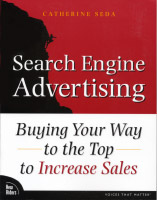 Search Engine Advertising
Search Engine Advertising: Buying Your Way to the Top to Increase Sales
By Catherine Seda
347 pages, grayscale illustrations
$29.99 ISBN 0-7357-1399-5 - New Riders 2005
http://www.newriders.com

This is a how-to book for commercial advertisers on the Web who want to get the most bang for their buck in listings and exposure.
----------------------------------------------------------------------------------------------------------