VERY USEFUL FOR BEGINNING AND INTERMEDIATE WEB DESIGNERS
Professional Web Design: Techniques and Templates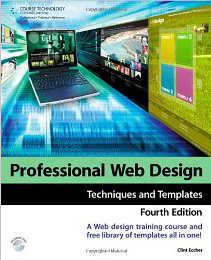 Author: Clint Eccher.
912 pages, color illus., CD with templates
$49.99 ISBN 1435457153 Cengage 2010

This book is written by a successful designer with many years experience. He provides foundation advice for usability and explains how to use CSS technology and optimize a site for search engins.

He provides many useful templates on a disc.
----------------------------------------------------------------------------------------------------------

THE BEST BOOK FOR BEGINNERS
Web Design All in One for Dummies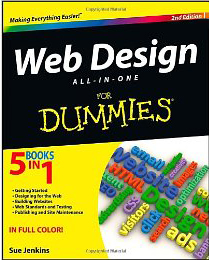 Author: Sue Jenkins
668 pages Color illustrations
$44 ISBN 1118404106 For Dummies 2013

This series provides the most up-to-date comprehensive book. It is in sections covering basic site design considerations, creating a distinctive site image, building a site, testing a site, launching a site, maintaining a site. It covers CSS3 and HTML5. It does not include a disc with templates
----------------------------------------------------------------------------------------------------------

A MUST READ WHEN DESIGNING WEB SITES FOR CORPORATIONS
COMMUNICATING DESIGN: Developing Web Site Documentation for Design and Planning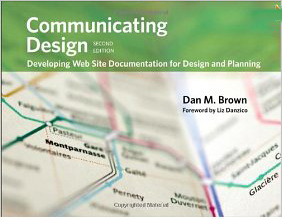 Author: Dan M. Brown
312 pages - mostly text, some grayscale illustrations of charts
$44.99 ISBN 0321712463 New Riders 2010

Communicating Design is for everyone who has to deal with large corporations on Web projects. The most important problem is getting the information you are developing to all the necessary people, especially those in a decision-making position, and in a form they can understand and then getting a sign-off that protects you from endless redos.

This highly detailed book takes you step by step with usable examples through organizing, documenting and presenting your work to your client, using such things as site maps, wireframes, content inventories and flow charts. This will help ou avoid misunderstandings with clients and redos that can eat up your profits.
This is the only book I know that has deals with this important subject in a detailed and comprehensive way, but be aware this book is challenging to read and not easy understand. It needs to be assigned to a person on your team who likes this sort of thing

This book would be an excellent text for business schools because it teaches both Web site creation management along with skills that can be applied to working effectively with corporations on a wide variety of projects.

----------------------------------------------------------------------------------------------------------

ESSENTIAL READING FOR WEB PROFESSIONALS
Web Standards, Mastering HTML5, CSS3, and XML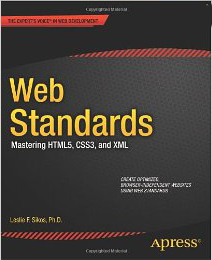 Author: Leslie Sikos
524 pages Color illustrations
$44.99 ISBN 1430240415 Apress 2011

The goal of Web Standards is to provide the coding tools to make every compliant site work on every compliant browser.

Web Standards does more than just provide compatibility, it creates elegant code that is lean and efficient. If you are a business with tens of thousands of visitors, the less code, the less time it takes to transmit a page, and that saves bandwidth which saves money.

Using Web Standards also means you keep the most possible visitors and present them with the most uniform experience no matter what their browser.
----------------------------------------------------------------------------------------------------------

IMPORTANT FOR PROFESSIONAL WEB DESIGNERS
Prioritizing Web Usability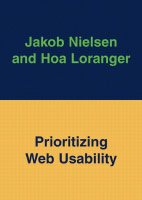 Authors: Jakob Nielsen & Hoa Loranger
432 pages Color illustrations
$50 ISBN-13: 978-0-321-35031-2 New Riders 2006

Following the advice in this book is worth millions of dollars to most corporations and many thousands of dollars to even small on-line businesses. You will have a web site that has a clean, simple design with easy navigation to well structured information, and if you are selling, that is optimized to close the sale followed by a properly functioning check out.

Author Jakob Neilsen has spent many years studying what works and what doesn't work in web site design. He presents his findings clearly and concisely, illustrated by excellent screen captures of major web sites showing what they have done right and wrong.

Follow the advice in this book and